Structure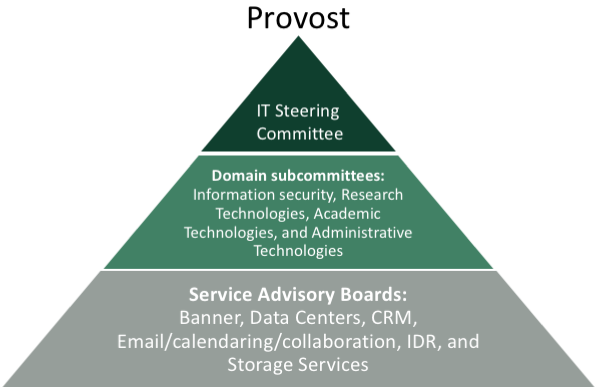 Domain Subcommittees
The domain subcommittees represent conceptual subsets of business, research, and teaching technologies. These subcommittees will take recommendations and advice from applicable service advisory boards. For example, an Administrative Technologies domain subcommittee will address issues related to Banner, constituent relationship management (CRM) software, DuckDocs, and other applications that are used for key business processes. An Information Security domain subcommittee will address questions about security and information assurance. 
The chairs of the doman subcommittees are listed below:
Service Advisory Boards
The service advisory boards will advise on how to manage specific enterprise services. For example, the Banner Coordinating Group, which is comprised of staff from Banner-using units across campus, advises IS staff on running the university's ERP; the Drupal Steering Committee advises on the current state and future development of the Drupal Web Hosting service. Some service advisory boards already exist and others will need to be created.
Information Services has convened the following service advisory boards, with chairs noted:
Data Centers: Rebecca Albrich, Eric Fullar
Email, Calendaring, and Collaboration: Jeff Jones
Storage Services: TBD (see Christy Long)
Unified Communications: Christy Long and Melody Riley
Security Policy: Cleven Mmari, Shandon Bates
Banner: Melody Riley
Security Technology: Duncan Barth, Ryan Stasel
IT Steering Committee
The IT Steering Committee (ITSC), started in September 2016, advises the Provost on matters related to IT policies, priorities, and performance. More specifically:
On policies, the ITSC evaluates and provides recommendations on IT-related policies, including the creation of new and the revision of existing policy.  
On priorities, the ITSC reviews proposals for IT resources, initiatives, services, and major enhancements that meet specified criteria and provides recommendations for prioritization in alignment with the University's strategies. 
On performance, the ITSC provides input on the efficacy of the UO IT Strategic Plan as needed, and participate in the development of future plans.  
Co-chairs: Abhijit Pandit and Cass Moseley
2020-2022 Members: Jim Brooks, Lacie LaRue, Bill Cresko, Joe Dufek, Melody Riley, José Domínguez, Christy Long, Stephanie Majewski, Jamie Moffitt, Juan-Carlos Molleda, Hal Sadofsky, Alicia Salaz, Brad Shelton, Kathie Stanley, Jeff Stolet, and Chuck Triplett
IT Steering Committee meetings are held quarterly.
About IT Governance
Why IT governance?
The University of Oregon has a tradition of shared governance and community input. Since many IT services are used broadly by employees and students, it's important to consider use cases and user experience. There are additional situations that call for governance. You might need IT governance if...
New IT policies are developed and approved and stakeholders are surprised by those policies
Stakeholders are unhappy with the solutions IT is providing and are resisting using them or are developing shadow IT projects and systems
IT organizations want more meaningful collaboration with stakeholders and would like to increase transparency around decision making
Central and distributed IT units are purchasing and deploying duplicative IT technologies and services, or costs related to such deployments are higher than anticipated
IT organizations are unsure how to best allocate resources to meet stakeholder needs or have internal disagreements about this
Institutional leadership views IT as a cost center rather than an effective partner in achieving the institution's mission
 What does governance provide? (1)
Alignment of IT decisions with institutional mission and stakeholder needs
Improved communication among the IT community and between IT and the rest of the institution
Assurance of stakeholder buy-in into policy decisions and IT budget and project priorities
Integration of risk management into IT decision making
Goals of IT governance (1)
Be strategic
Enable community input and decisions
Enable management of IT assets
Guide community utilization of IT assets
Be flexible
How We Developed IT Governance
The structure used for IT governance was developed through conversations with key stakeholders and a two-day IT governance retreat that included faculty, staff, and students, as well as classified staff, OAs, faculty, administrators, and members of the UO Senate. During the two day retreat in mid-September, 2017, the group of 50 discussed campus-wide IT decision types, stakeholders, and structure. The group also deliberated on governance for Transform IT and how to strategically and transparently manage savings produced by that initiative. (For more details about the IT Governance retreat, see CIO leads discussion to develop IT governance.)
These discussions informed a draft governance structure, which the IT Steering Committee (the university's top-level IT governance group) endorsed in late September, 2017. This governance structure and its goals are presented below.
Sources
1: Carraway, D., Arruda, K., Hagins, J., Martinez, B. R., Molina, H., Perry, J. D., II, . . . Will, C. C. (2017, March). Higher Education IT Governance Checklist. Retrieved from Higher Education IT Governance Checklist.